Scroll down to view our sponsor giveaway and enter for your chance to win!
Movement wires the brain to learn, but for some of our children that need to move is more obvious than for other children. Our culture describes the proper setting for getting an education to be kids sitting still at desks dutifully reading, listening, and following rote instructions. Homeschooling provides us the opportunity to break free from the desk mentality. We can embrace the freedom and opportunity that comes with a more active approach to learning.
How To
Homeschool
The
Active
Child
I'll never forget our experience learning about Africa while I was creating Go Global. We had read amazing books about children such as Mama Panya's Pancakes or One Hen: How One Small Hen Made a Big Difference…that gave us a glimpse into life in rural Kenya and Ghana. As we remembered back to the stories we had read about kids in the South American Amazon region, I was struck with something.
Much of the world does not have access to running water. Something as simple as walking to the sink and filling a glass of water is a rarity around the world. I wanted my kids to understand the work involved in something as simple as gathering water. To understand that kids around the world were just like them in many ways, but also had unique jobs that differed from theirs. I wanted to help them develop empathy and a desire to help others. But giving them a speech about it is rarely effective.
Reading stories is a move in the right direction, but for the active child especially, they need to experience it.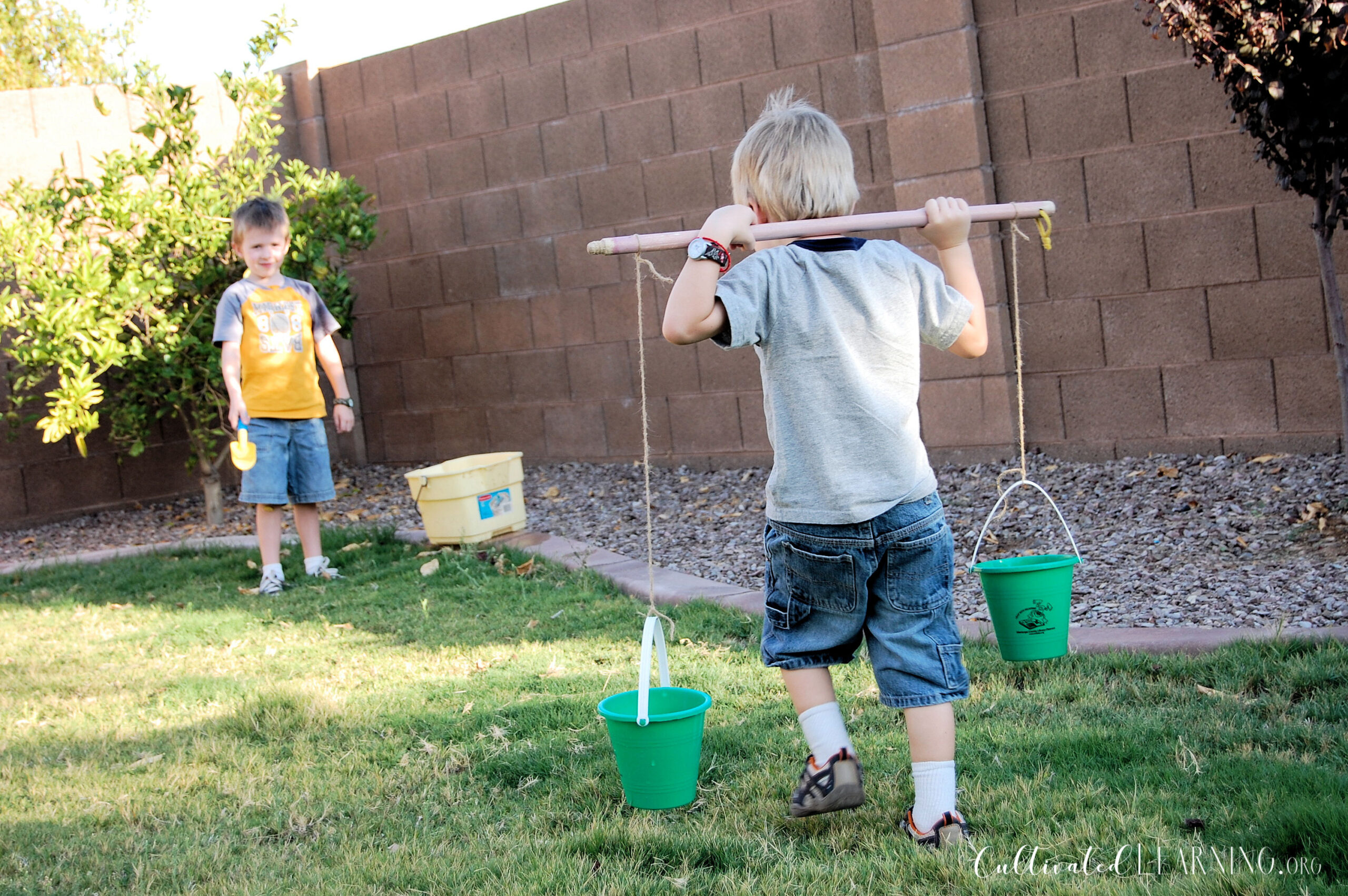 So we gathered water for a day. We watered our garden with water that they had to haul from one side of our suburban backyard to the other side in buckets hung from a broomstick that they balanced on their shoulders. My young boys (at the time) were eager to show off how strong they were and yet quickly realized how much work it really was. Their respect for the boys and girls who haul water for their family grew. It was a lesson they still talk about to this day, nearly 10 years later.
Movement matters. Experience matters. Getting our kids up out of their chairs and off the couch can make such a big difference. It helps cement what they are learning into long-term memory. Sometimes it is a little more involved like our hauling water day. But most often it is making simple steps in our day to free them up to move.
With that in mind, I wanted to give you five tips for homeschooling the active child and helping your child flourish!
Five Tips for How to Homeschool the Active Child
1. Understand that movement wires the brain to learn.
I write about this in my book, The Ultimate Guide to Brain Breaks. Movement fosters connections in the brain that make learning both easier and more efficient. When we pursue a multi-sensory approach to life these connections flourish and grow. Movement helps with something called bi-lateral integration. This is the ability of one part of the brain to communicate with the other. Movement stimulates the vestibular system.
It's crazy how developing a child's ability to balance, hang upside down from a tree, or brachiate on the monkey bars all work to wire the brain to learn, but it does. When we understand this and then regularly REMIND ourselves how important movement is, we are more apt to look for opportunities to allow our children to be active.
2. Mix up the Basics to Get Active
Homeschooling provides us the freedom to break away from the "desk mentality." Our kitchen countertops provide the perfect location for a standing desk if sitting that day doesn't seem to be working. Walking to work through problems or outline a paper are also highly effective. There is something about marching that enables busy, scattered minds to focus. As one of those active girls, who thankfully was homeschooled, I learned all of my multiplication tables by marching around the kitchen table. Even now, I work through many of my writing projects by taking a walk or run around the block!
3. Take a Brain Break
We've all seen it, the glazed over look when our kids have started to tune us out or begin crawling through their math problems at a snail's pace. While we as adults might be able to muscle through it, children simply can't. Instead of getting frustrated, this is the time for a Brain Break. A Brain Break is simply a quick 2-3 minute break designed to wake up the brain by getting the body moving in a way that activates the wiring in the brain. We utilize brain breaks all the time for those moments when we want to finish that spelling lesson or sometimes between two more sedentary "desk work" kinds of subjects.
4. Busy Hands Make for a Focused Mind
Reading aloud as a family is a precious bonding time. Few things are more enjoyable than getting lost in a good book together. Learning is oftentimes painless as we are transported from the couch into the story at hand. Allow your active children the freedom to hang upside down from the couch. Chances are the only person distracted is you as the parent. Giving your children the opportunity to narrate back to you what is happening in the story will help you determine if they are paying attention or not. In our family, we
realized letting them play with Legos while I read was counter-productive because they entered into separate pretend play… Narration helped me quickly clue into that.
[click_to_tweet tweet="Discover How To Homeschool The Active Child on The Character Corner!" quote="Learn How To Homeschool The Active Child Today!"]
Busy hands make for a focused mind. And it's worth it to figure out what works for your family! Letting them play with a ball of clay, letting them finger knit (boys can enjoy this too), or coloring on a plain sheet of paper to illustrate the story are all great ways to keep their hands busy so their minds are able to focus!
5. Embrace Experience
You know the saying, "Talk is Cheap?" When it comes to your active child, asking them to just sit there while you read and then talk about it isn't enough. While encouraging them to talk to you is incredibly beneficial (especially compared to us simply talking at them), the active child needs to engage their body.
Embrace the power of experience. Challenge them to build something. For instance, if you are reading about the Alamo, have them act it out, by turning the couches into the Alamo. Have them build a Lego replica and do a demonstration for you. Instead of simply reading about the battle of Lexington and Concord, let them dress up (your coats and cardigans work well) and act it out! Dramatization is my go-to for making learning hands-on and movement-rich. I like it because it can be spontaneous and doesn't require advance prep.
So mom, what is your best tip for how to homeschool the active child? Let us know in the comments.
***
Visit Today's Series Sponsor Carole P. Roman and Scroll Down to Enter The Giveaway For Your Chance To Win!
Carole P. Roman is the award-winning author of over fifty children's books. Whether it's pirates, princesses, or discovering the world around us, her books have enchanted educators, parents, and her diverse audience of children. She's been interviewed by Forbes Magazine. She lives on Long Island near her children and grandchildren.
>> Scroll Down and Enter the Giveaway For Your Chance To Win!<<
If You Were Me and Lived in…
Former social studies teacher Carole P. Roman has penned many exiting explorations of foreign cultures and customs with "If You Were Me and Lived in … " series. In her years as a teacher, parent, and grandparent, Roman noticed that there were few, if any, books about other cultures for young children. Roman has remedied the deficit in a series that educates kids, parents and teachers, alike. Roman recognizes that children love to discover the differences and similarities of other people and places in far-off lands.
One winner to choose any 5 books of your choice from the "if You Were Me and Lived in…" cultural & historical series! Value $50. US Residents Only.
>> Scroll Down and Enter the Giveaway For Your Chance To Win!<<
Recognizing the brevity of childhood and the power of a parent's influence, Heather both inspires and equips families toward intentional parenting, loving God, and delighting in the adventure of learning. She is the author of the GO GLOBAL curriculum, Ultimate Guide to Brain Breaks, and Knights-in-Training: Ten Principles for Raising Honorable, Courageous and Compassionate Boys. She writes at www.cultivatedlearning.org.
Instagram Ι Facebook Ι Pinterest